The foundation for lifelong oral health is built in the earliest stages of life. By cultivating healthy oral hygiene practices during infancy and early childhood, we can establish habits that will benefit our dental health for years to come—and in this process, a pediatric dentist is an invaluable partner who can provide crucial guidance and care.
What is a pediatric dentist?
Pediatric dentists are specialized professionals focusing on children's oral health from infancy through adolescence. Their expertise and training enable them to deliver customized care and education that caters to the unique needs of young patients.
Unlike general dentistry, pediatric dentistry is a recognized specialty tailored exclusively to children. This area of practice encompasses procedures and treatments that address children's specific oral health requirements, particularly concerning their primary teeth.
As part of their role, pediatric dentists work to introduce young children to dentistry in a positive and engaging way. Rather than viewing it as a chore, they see it as an opportunity to establish a positive relationship with both child and parent while providing essential oral health care.
What do pediatric dentists do?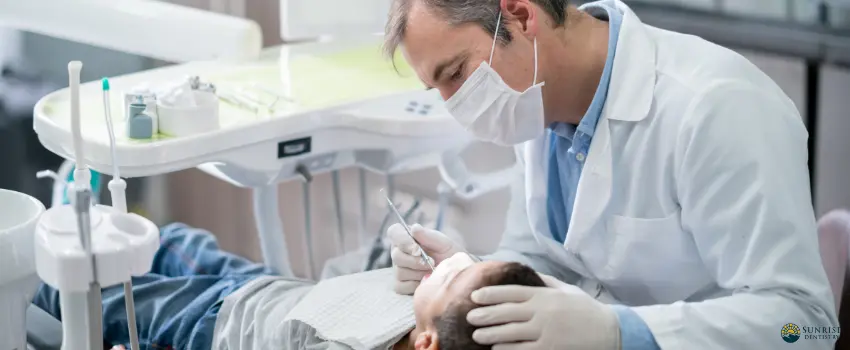 Pediatric dentists provide comprehensive oral health care specifically tailored to meet children's and teenagers' unique needs. Through their expertise and care, they can help children develop healthy oral hygiene habits that will set the foundation for lifelong oral health. Services involved in pediatric dentistry include:
Infant Oral Health Exams – Pediatric dentists provide risk assessments for dental caries in both the mother and child. Early detection is crucial in preventing future oral health issues.
Preventive Dental Care – These dental professionals offer diet and nutrition recommendations, teeth cleaning, and fluoride treatments to help prevent tooth decay and other oral health problems.
Teeth Straightening and Improper Bite Correction – Early diagnosis and treatment of misaligned teeth or an improper bite can help prevent more severe orthodontic issues from developing later on.
Habit Counseling – Pediatric dentists can provide guidance on breaking habits such as thumb sucking and pacifier use, which can lead to misaligned teeth or other oral health issues.
Tooth Cavity Removal – Pediatric dentists use a variety of techniques to treat cavities and prevent further decay. These dental solutions include fillings and crowns.
Repair for Defects or Dental Injuries – Whether it's a displaced or fractured tooth, children's dentists can provide swift and effective treatment to repair dental damage and prevent further complications.
Early Diagnosis of Oral Conditions – Pediatric dentists are trained to detect oral conditions associated with other diseases such as asthma, hay fever, ADHD, congenital heart defects, and diabetes. Early diagnosis and treatment can help prevent further health issues from developing.
Gum Disease Management and Prevention – Pediatric dentists also specialize in managing and preventing gum disease and pediatric periodontal disease, which can lead to tooth loss if left untreated.
Importance of Early Oral Care for Children
Maintaining good oral health practices during infancy and early childhood is crucial in setting the stage for healthy oral habits and teeth later in life. Here are some of the reasons why pediatric dental care is essential for children:
1. Preventing Dental Issues
As soon as your child's teeth begin to appear, it's essential to start establishing healthy oral hygiene practices such as cleaning and regular visits to the dentist for children. Early oral care helps prevent tooth decay, gum disease, and other dental issues that could be expensive and painful to treat in the long run.
2. Learning Healthy Habits
Good oral care practices instilled in children from an early age become habits that they will likely continue throughout their lives. Early oral care education ensures that children learn the importance of brushing, flossing, and eating a healthy diet.
3. Avoiding Pain and Discomfort
Poor oral health in children can cause pain and discomfort that can interfere with their ability to sleep, eat, and play. It is essential to address dental issues early to avoid discomfort and improve their overall quality of life.
4. Improving Overall Health
Oral health is an essential aspect of overall health. Studies have shown that poor oral health in children can lead to other health issues such as diabetes, heart disease, and respiratory problems. Early oral care is, therefore, critical in promoting healthy development and preventing systemic health issues.
5. Building a Positive Relationship with Dentistry
Starting dental care early helps children establish a positive relationship with dentistry. Pediatric dentists are specially trained to interact with children, helping them feel comfortable and safe during dental visits. This relationship helps to build trust, making dental visits less stressful as they age.
When should children stop seeing a pediatric dentist?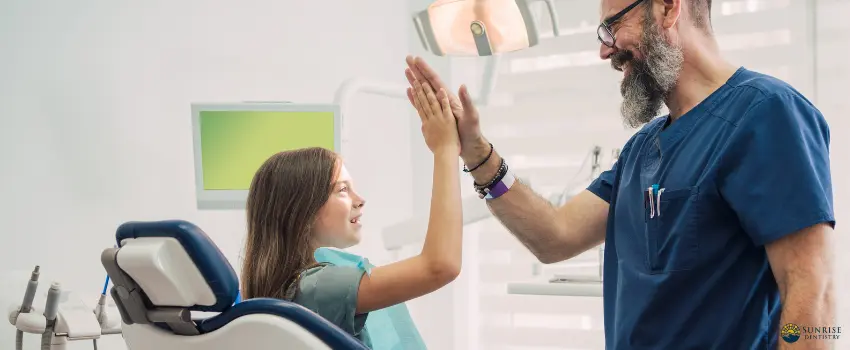 The American Dental Association recommends that parents schedule their child's first dental visit as soon as their first tooth appears or by age one. Pediatric dentists typically continue to care for their patients until they are around 12 or 13 years old, when their adult teeth have mostly come in. However, some parents choose to have their children see a pediatric dentist into their teenage years, especially if they have special needs.
The Bottom Line
Pediatric dentists are highly qualified and experienced in providing comprehensive oral health care to children at different stages of their childhood. They use their knowledge to help children develop a positive attitude towards oral health, making their experience enjoyable and stress-free. With their help, children can receive the best possible dental care and enjoy a healthy smile for years to come.
Establish a strong foundation for healthy teeth and gums with Sunrise Dentistry.
If you're looking for a trusted pediatric dentistry clinic that offers holistic and child-friendly dental care, Sunrise Dentistry is here to ensure that your child's teeth and gums are well taken care of as they grow.
Our pediatric dentists in Durango, CO, provide a wide range of preventive dental services, including teeth cleaning, fluoride treatments, and diet and nutrition recommendations. With our trusted expertise and training, we strive to ensure your child develops a lifetime of healthy smiles while prioritizing overall health and wellness.